Man...I think I am behind on some posting. So where we go...

As my last post mentioned, Rob's 27th birthday was on December 18th. On the night before (the 17th, obviously) I had a small surprise party thrown for Rob at the Cheesecake Factory. My parents and sister came, as well as Rob's longtime friend, JP and his wife Toni, as well as our neighbors Phil & Teresa and Rob's Brother and fiance. It was such a nice, fun time- and Rob had NO idea about the party!!!!!

On the actual day of his birthday- he worked and then I think we did something that night, but I can't remember what. Hmmm- maybe this is why I should blog more frequently. I digress.

Then on December 20th, we attended an "Ugly Sweater" party at the home of our friends, Justin and Kathryn. Rob and I made our sweaters, and they were quite the hit.

Rob's was 3 Naked Barbies with the words "Ho Ho Ho" above them. And yes...I will take credit for the idea! I thought of it all myself!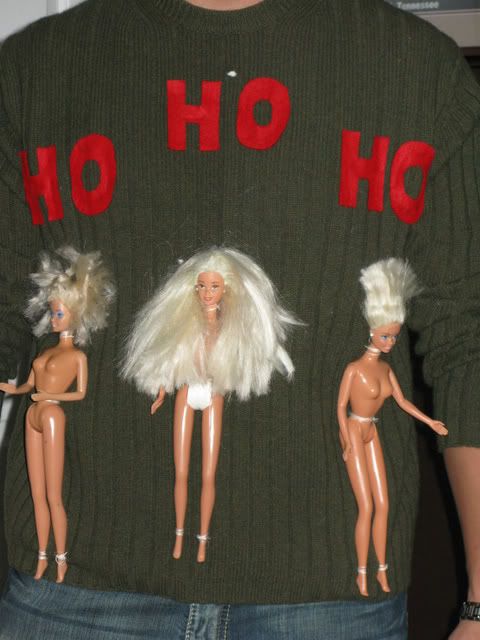 My sweater I also made- complete with a stocking that read "Misteltoe Me", a naked Ken doll, ugly red felt bows (and a HUGE red felt bow on the back which can't be seen) and ornaments hanging off of the neck line. The icing on the cake, would have to be the Christmas Lights that were poked all over the sweater. This picture makes it hard to see them, but they are there =)




On December 22nd, We celebrated my 26th birthday. I managed to wake up sick with a cold the day after the sweater party, so I wasn't really feeling up to a big birthday dinner that evening. Rob asked me to decide what I felt like doing...and I certainly did. Rob came home from work, and we hung out together for a while, just catching up on our day. Then we put on our comfy pajama type clothes and hopped in the Tahoe. We ran by the dry cleaners, and then made our way to Sonic for dinner in the car :) Then it was off to Starbucks for a Grande Caramel Apple Cider for me, and a Coffee for the hubby. We then drove over to Deerfield, and spent the next 2 hours looking at the amazing Christmas lights. I have ALWAYS wanted to grab Starbucks and go look at Christmas lights with Rob- and in the 3 years that we have been together, we haven't done that!!! So it was the PERFECT birthday, and we loved it.

Christmas Eve- Rob's brother Ryan (also my BIL) and his fiance, Kate came over to our home for our Christmas between the 4 of us. We had chili and then opened presents. It was a great time (mmmm, for the most part) and we are so thankful that we both have our families close, so we can spend time together.

On Christmas Day, my parents, sister, and my grandparents all came over to our home and we had Christmas Morning here at the Spencer house!!!! It was a wonderful time, and we are truly SO very thankful for our family. We opened presents, laughed--and enjoyed some Monkey Bread and Fruit Salad which I prepared for Breakfast :)

At around Noon, Rob and I left and went to Christmas Day Brunch with Rob's dad. Kate and Ryan also joined us, and we celebrated Christmas/Birthdays on Wednesday afternoon with Rob's Family.

After Brunch, Rob and I went back to my parents house, for Christmas Dinner! My parents had been out of town in San Diego for the Poinsettia Bowl since my dad officiated that game. They didn't get back home until Christmas Eve, so my grandmother, my sister, and me all prepared dishes for Christmas Dinner. I'm telling you...my family can cook. However my jeans are NOT thanking me today =(

Christmas was VERY full and VERY busy this year, but I wouldn't have it any other way!!!

Now onto the home renovations....as our Christmas Gift to each other- Rob and I decided we would install hardwoods in the entire downstairs. We went and purchased the wood..and Rob spent 3 days STRAIGHT...I mean...12-13 hours a day ripping up carpet, prepping the floors, and installing the hardwoods, as well as laying down new baseboard. The floors look amazing, and I am SO INCREDIBLY thankful and grateful for all of the hard work (and sweat) that Rob put into those floors. It looks gorgeous. While Rob was installing the hardwoods- I was painting the long hallway that we have downstairs. I have a wedding wall that I am in the beginning stages of, so paint was the first step. Done. Painting is done =) I will take pictures of the downstairs just as soon as we have everything complete!!!

I hope you all had a very Merry Christmas and will talk with you all soon=)