So last weekend (Labor Day Weekend) I spent a majority of Monday in the kitchen. I happily made 4 different types of cookies, and Tortilla Soup!!! Three types of cookies were for various work occasions, and the fourth type was a personal request from the Head of Household (ahem, no...not me much to your dismay...my husband). The tortilla soup is a family favorite of ours, and Rob has now taken a much deserved liking to the soup...so yes- I made that too.

I figured I would go ahead and post all of the recipes here for yall. I will tell you that aside from the Oatmeal Scotchies I made, the other Three cookie recipes were BRAND NEW to me. I had never tried them before. If you cook or bake much you can totally understand the nerves that made their way into my body, as it's always a little nervewracking to try a new recipe (especially if it's a letdown when it's complete). But I can happily say that all 4 of the cookies were a HIT!!!! I had tons and tons an tons of compliments that were very flattering.

**Let me start by saying if you DO NOT use Parchment Paper when baking cookies, you need to start IMMEDIATELY. Do not pass go, do not collect $2oo. Instead, USE PARCHMENT PAPER. You can keep the same sheet on the baking sheet throughout the entire batch, so seriously...it's worth it**

Now make sure you have ink in your printer, and open a word document, so you can copy and paste these recipes and file them in your recipe folder junk drawer like me!


(boring, I know...but they were a special request from a co-worker so I obliged)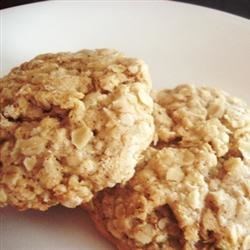 1 cup butter, softened
1 cup white sugar
1 cup packed brown sugar
2 eggs
1 teaspoon vanilla extract
2 cups all-purpose flour
1 teaspoon baking soda
1 teaspoon salt
1 1/2 teaspoons ground cinnamon
3 cups quick cooking oats
1. In a medium bowl, cream together butter, white sugar, and brown sugar. Beat in eggs one at a time, then stir in vanilla. Combine flour, baking soda, salt, and cinnamon; stir into the creamed mixture. Mix in oats. Cover, and chill dough for at least one hour.
2. Preheat the oven to 375 degrees F (190 degrees C). Line Cookie sheet with Parchment Paper. Roll the dough into walnut sized balls, and place 2 inches apart on cookie sheets.


3. Bake for 8 to 10 minutes in preheated oven. Allow cookies to cool on baking sheet for 5 minutes before transferring to a wire rack to cool completely.
***I followed this recipe exactly. In my oven I needed to cook them for 8 minutes. I let them cool for about 2 minutes only, before transferring them to a wire cooling rack. The cookies are REALLY soft, even 2-3 days later. Lots of yummy cinnamon flavor, and for boring ole Oatmeal Cookies, they were seriously so good! (feel free to throw in raisins, white chocolate covered craisins, chocolate chips, etc..if you choose.***
Soft (and I MEAN SOFT) Snickerdoodle Cookies
(I had sooooo many compliments on these. I have NEVER made snickerdoodles before, but they are definitely a favorite of mine. These cookies literally melted in your mouth when you bit into them...yum yum yum. And to quote one of my co-workers who called my extension while chewing his cookie- he said "Amy, these are the best snickers I have ever doodled". HA!)
1. Preheat oven to 350°F.
2. Mix butter, 1 1/2 cups sugar and eggs thoroughly in a large bowl.
3. Combine flour, cream of tartar, baking soda and salt in a separate bowl.
4. Blend dry ingredients into butter mixture.
5. Add vanilla and mix well.
6. Chill dough, and chill an ungreased cookie sheet for about 10-15 minutes in the fridge.
7. Meanwhile, mix 3 tablespoons sugar, and 3 teaspoons cinnamon in a small bowl.
8. Scoop 1 inch globs of dough into the sugar/ cinnamon mixture and coat.
(I found it worked best if I dropped the "glob" in the cinnamon/sugar mixture, coated it and THEN formed it into a ball before dropping onto the parchment paper)
9. Place on chilled ungreased cookie sheet, and bake 8 minutes.
10. Let sit on cookie sheet to cool for about 3 minutes before transferring to wire rack to finish cooling.
(you *may* have to adjust your cooking time if they come out too dough-y. But I will tell you I thought my first batch was going to be almost raw in the middle, but they turned out perfect after completely cooling)
Nestle Oatmeal Scotchies
(found on the back of a Nestle Butterscotch Morsels bag)
1. Preheat oven to 375 degrees F.
2. Combine flour, baking soda, salt, and cinnamon in a small bowl; set aside.
3. Beat butter, granulated sugar, brown sugar, eggs, and vanilla extract in a large bowl.
4. Gradually beat in flour mixture.
5. Stir in oats and morsels.
6. Drop by rounded Tablespoonfuls onto an baking sheet lined with parchment paper.
7. Bake 7 to 8 minutes .
8. Cool on baking sheets for 2 minutes, remove to wire racks to cool completely.
Peanut Butter Chocolate Chip Cookies
(these might be bakery worthy. Seriously, they were amazing)
1 1/4 cups all-purpose flour
3/4 teaspoon baking soda
1/2 teaspoon baking powder
1/4 teaspoon salt
1/2 cup unsalted butter, softened
1 cup peanut butter at room temperature (smooth is what I used (Peter Pan brand- but you could easily use chunky for added texture)
3/4 cup sugar
1/2 cup firmly packed light brown sugar
1 large egg, at room temperature
1 tablespoon milk
1 teaspoon vanilla extract
1/2 cup peanut butter chips (I found Reese's brand at my grocery store)

1/2 cup MINI semi-sweet chocolate chips (Tollhouse makes these)
For sprinkling: 1 tablespoon sugar- regular sugar
1. Preheat oven to 350 degrees.

2. In a large bowl, combine the flour, the baking soda, the baking powder, and the salt. Set aside.
3. In a large bowl, beat the butter and the peanut butter together until fluffy.

4. Add the sugars and beat until smooth.

5. Add the egg and mix well.

6. Add the milk and the vanilla extract.

7. Add the flour mixture and beat thoroughly.

8. Stir in the peanut butter and chocolate chips.

9. Place sprinkling sugar — the remaining tablespoon — on a plate.

10. Drop by rounded teaspoonfuls into the sugar and coat.
11. Place onto parchment paper lined cookie sheets, leaving several inches between for expansion.
12. Using a fork, lightly indent with a crisss-cross pattern but do not overly flatten cookies.

13. Bake for 10 to 12 minutes. Do not overbake.

(Cookies may appear to be underdone, but they are not.)
14. Cool the cookies on the sheets for 1 minute, then remove to a rack to cool completely.
******NOTE FOR ALL COOKIES MENTIONED ABOVE, AND FOR ALL COOKIE MAKING IN GENERAL******
I NEVER EVER BAKE MY COOKIES FOR THE TIME LISTED ON THE RECIPE. I WILL ALWAYS SET MY TIME FOR 2 MINUTES LESS THAN THE SHORTEST AMOUNT OF TIME IN THE COOKING INCREMENT (EX: COOK 8-10 MINUTES, I SET TIME FOR 6) AND THEN WATCH THE FIRST BATCH FROM THERE, AND DETERMINE THE EXACT TIME I NEED. PLEASE KEEP IN MIND THAT THE COOKIES CONTINUE TO BAKE A BIT ONCE THEY ARE REMOVED FROM THE OVEN!!!!! ALLLLLLL OF THESE COOKIES WILL STILL JIGGLE A BIT WHEN YOU REMOVE THEM FROM THE OVEN, BUT I PROMISE WHEN THEY COOL, THEY WILL BE PERFECTION!
Chicken Tortilla Soup
1 lb Chicken Breasts cooked and chopped/shredded
2 cans beef broth
2 cans chicken broth
1 large onion, chopped
1 large bell pepper, chopped
2 large cloves of garlic, minced
2-3 stalks of celery, chopped
1 small can or corn (maybe 8 oz or so??) drained

1 can rotel
1 can of diced tomatoes plus juice
1 small can tomato sauce
sprinkle of chili powder
sprinkle of cumin
chopped cilantro
Bag of Bite Size Tortilla chips
Monterrey Jack Cheese

1) Cook your chicken and cut it up
(I just throw my chicken breasts in a pot of boiling water and let them cook, and move onto step 2)
2) In large pot, place chopped onion, bell pepper, garlic, and celery into the pot with about 2 T olive oil.
3) Saute vegetable mixture for about 7-8 minutes
4) To pot with vegetables add: 2 cans beef broth, 2 cans chicken broth, can of corn, can of Rotel, can of tomato sauce, can of diced tomatoes and your chicken. Stir.
5) At this point, you may determine you want more broth. If so, feel free to add another can of stock, or even some water and a bouillon cube- whichever.
6) Bring to a boil.
7) Add in your spices. (cumin, chili powder, salt and pepper). I do about 6 or 7 shakes of cumin and chili powder, and a good pinch of salt and pepper.
8) Chop up your cilantro (I probably chop up about 3-4 Tablespoons - yes Tablespoons) and throw that in the pot.
9) It's really ready to go as soon as it heats up, but it's really best to let it simmer for about 45 min to an hour.
10) When ready to serve, put a handful of tortilla chips on the bottom of the bowl. Top with Monterrey Jack Cheese- and then ladle your soup ontop!!!
(If you are feeling really fiesty, grab a fresh avocado and chop that up to toss in there right before serving!!!)
Yall this soup is AWESOME. So easy- seriously so quick...and sooooo good. If you like spicy- add more chili powder, and if you like Cilantro..make sure to up that amount, too!!!




Alright- so those are my posts for today!!!!! I had so much fun making all of these things- and it was even better to share them with others!!! I miss yall lots, but have another post coming in a few days about a pair of shoes that I purchased that you will not EVEN BELIEVE I had the audacity to spend money on!!! Seriously!!!